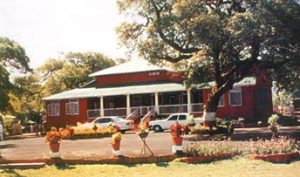 Mahabaleshwar and Pune have almost concurrently served as the Summer houses of the Governor of Bombay. The Governors House at Mahabaleshwar known as the Terraces and rechristened as Giri Darshan is a relatively small building but nestled in the midst of forests, it is an ideal set-up to enjoy the beauty of the Sahyadri Hills. The Governor uses this building for a few weeks in summer and undertakes visits from here to the neighbouring places to monitor the progress of development projects and attend public functions.
The Terraces was purchased in 1884 and added to the Government house properties in 1886. In 1932, the earlier residence of the Governor, the Bella Vista was discontinued in favour of the Terraces. It, however, seems that both houses were intermittently used, depending on the choice of every individual Governor. That is the reason why the Terraces had to undergo major renovation when the present Governor chose to reside at the Terraces.
An urge to escape the sultry heal of Bombay combined with the natural love of the countryside was an inescapable temptation to go to Mahabillisir (Mahabaleshwar) at least for a man of Elphinstones taste.
Charles Malet, the English Resident at the court of Sawai Madhavrao Peshwe, may have been the first European to set foot on the Mahabaleshwar hill but its importance as a health resort was noticed by Major Lodwick in the Bombay Courier of 1st May 1824. Lodwick concluded with a positive assertion:
"There is abundant room for several parties who may be near or distance each other and Mahabillysir is capable of becoming from its centrical situation the resource of all who are in search of health, of pleasure, or of retirement, without much fear of disappointment and with the power of returning home immediately, should duty call or expectation not be gratified."
Lodwick did not forget to reassure:
Neither tigers nor thieves are to be feared; we neither saw nor heard of any during our stay.
We will leave it to the occupants to say how true was Lodwick.
Mahabaleshwar is located in the Sahyadri rang also known as the Western Ghats, at an altitude of 4718 ft and takes its name from an ancient Shiva temple at old Mahabaleshwar connoting "Maha + Bala + Ishwara" i.e. "God of Great strength".
Its other identity lies in its being the origin of a major river in the Deccan, the Krishna which runs through three states, Maharashtra, Andhra and Karnataka and is today known more for the dispute over the distribution of its waters. In the vicinity of Mahabaleshwar is the fort of Pratapgadh, famous in Maratha history for the meeting of Chhatrapati Shivaji and Afzalkhan, a General of the Bijapur court, and as the seat of the goddess Tulja Bhavani.