25.10.2021: Governor presents Rashtra Shakti Puraskars to 30 eminent personalities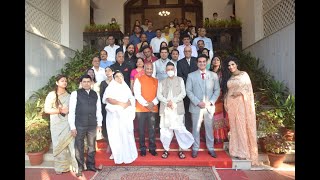 25.10.2021: Governor Bhagat Singh Koshyari presented the Rashtra Shakti Awards to film star, social workers and other eminent personalities from various walks of life at Raj Bhavan, Mumbai.
The awards were presented on behalf of the Rashtra Shakti Foundation. President of the Foundation Prakash Gujrani and Deputy Advocate General of Uttarakhand Dr Virendra Rawat were present.