Shri Sadiq Ali (30.04.1977 – 03.11.1980)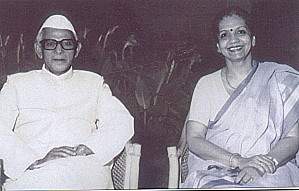 Shri Sadiq Ali was born on the 4th of April 1910 at Udaipur in Rajasthan. He left home at a young age to pursue his studies at Allahabad University and than joined the freedom struggle and was jailed several times.
He was Office Secretary and then Permanent Secretary of the AICC from 1936-1948. Gerneral Secretary from 1958-1962 and again 1964-1969.He was a member of the Provisional Parliament from 1950-52 and of Rajya Sabha from 1957 to 1970 He was also Chief Editor of the AICC Economic Review from 1958-62 and 1964-1969,
He served as President of the Indian National Congress (O) from 1971-73, Governor of Maharashtra from 1977-80, Governor of Tamil Nadu from 1980-82, Chairman Rajghat Samadhi Committee, New Delhi 1992-96.
He continued to be Chairman of the Gandhi Smarak Sangrahalaya Samiti since 1985, and Chairman of the Gandhi National Memorial Fund since 1990 Chairman Sardar Patel Memorial Trust and Council for Communal Harmony.
His well received publications include: A Survey towards Socialist thinking in the Congress, Democracy and National Integration. The Vision of Swaraj, etc.