Shri S. M. Krishna (06.12.2004 – 08.03.2008)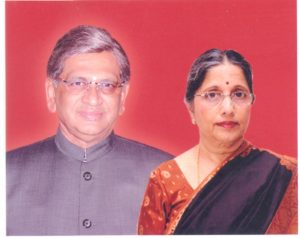 Shri Somanahalli Mallaiah Krishna was born on May 1, 1932. He is one of the highly educated Chief Ministers Karnataka has ever had. A graduate from Maharaja's College, Mysore, he later obtained a law degree from the Government Law College, Bangalore. Further, he studied at Southern Methodist University, Dallas, U.S.A. and later at George Washington University.
Back in India, he worked as a Professor of International Law in Renukacharya Law College, Bangalore. Mr. Krishna was elected to the Karnataka Legislative Assembly in 1962. He made his debut in Parliament in 1968 and became a Member of the fourth Lok Sabha. He was elected to the fifth Lok Sabha too, but preferred to return to State Politics in 1972, when he was elected to the Legislative Council and inducted as Minister for Commerce, Industries and Parliamentary Affairs, a charge he held between 1972 and 1977. In 1980, he returned to Lok Sabha and was made Minister of State for Industry during 1983-84, and Minister of State for Finance during 1984-85.
He became the Speaker of Karnataka Legislative Assembly in 1989, a post he held till 1992. He became Deputy Chief Minister of Karnataka in 1992. Elected to Rajya Sabha in 1996, he was its member till October 1999.
He was Chief Minister of Karnataka from October 1999 to May 2004. Mr. Krishna took oath as Governor of Maharashtra on 6th December 2004.
Widely travelled, Mr. Krishna was a Member of the Indian delegation to the United Nations in 1982, and as a delegate, attended the Commonwealth Parliamentary Seminar at Westminster, U.K. in 1990.
A brief on Shri S.M.Krishna:
Qualification : B.A., B.L., M.C.L. (TEXAS)
Personal : Son of Late Shri S.C.Mallaiah, Somanahalli, Maddur Taluka, Mandya District.
Education : Maharaja's College, Mysore, Government Law College, Bangalore, Southern Methodist University, Dallas Texas, (USA), Fulbright Scholar-Graduate Student, George Washington University, Washington D.C. (U.S.A.).
Marital Status : Married to Smt. Prema on April 29, 1964 – Two Daughters
Positions Held : Academic: Professor of International Law, Sri Jagadguru Renukacharya Law College, Bangalore (1962-68)
Professional: Attorney-At-Law
Political :

Member, Praja Socialist Party (formerly)
Member of 3rd Karnataka Legislative Assembly 1962-67
Member, Indian Parliamentary Delegation to Commonwealth
Parliamentary Conference, New Zealand, 1965
Member, 4th Lok Sabha 1968-70
Member, 5th Lok Sabha 1971-72
Member, Karnataka Legislative Council 1972-77
Minister for Commerce, Industries & Parliamentary Affairs, Government of Karnataka 1972-77
Member, Indian Delegation to the United Nations, 1982
Union Minister of State for Industry during 1983-84
Union Minister of State for Finance during 1984-85
Member, 9th Karnataka Legislative Assembly 1989-94
Speaker, Karnataka Legislative Assembly 1989-92
Delegate to Commonwealth Parliamentary Seminar at West Minster, U.K. in March 1990
Deputy Chief Minister of Karnataka 1992-94
Member, Rajya Sabha from April 1996 to October 1999
Chief Minister of Karnataka from 11th October 1999 to 20th May 2004
President KPCC from February 1999 to June 2000
Governor of Maharashtra since 6th December 2004

Social Activities: Associated with the World University Service
Favourite Pastime & Recreation: Designing Men's Clothes & Reading
Sports : Tennis, Yoga
Travel Abroad : All Countries in Europe, Asia, Africa, Australia, U.S.A. & New
Zealand