Shri Kona Prabhakara Rao (31.05.1985 – 02.04.1986)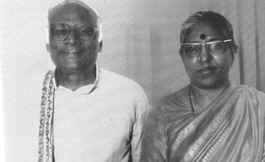 Shri Kona Prabhakara Rao who has succeeded Air Chief Marshal I. H. Latif, as the Governor of Maharashtra, on 30th May 1985 was born on 10th July 1916 at Bapatla in Andhra Pradesh. He had most of his schooling in his native place. He graduated from the Loyala College, Madras and completed his law degree from the I. L.S. Law College, Pune.
He conducted boycott of the school when late Motilal Nehru died. He participated in Salt Satyagraha. He organised a youth league and propagated using of Khadi.
Shri Rao started practice as an Advocate in Bapatla in the composite Madras State in 1 940. He was elected to the Andhra Pradesh Legislative Assembly for the first time in 1967 and later in 1972 and 1978. He was Speaker of the Assembly during 1980-81. He was President of the APCC(I). He was also Minister-in-charge of Finance and Planning during the Chief Ministership of Shri Bhavana Venkatram and Shri Vijaya Shaskara Reddi.
Shri Rao was appointed as Lt. Governor of Pondicherry on 2nd September 1983 and he continued in that post till June 1984. On 17th June 1984 he assumed the office of the Governor of Sikkim. A keen sportsman Shri Rao was Tennis champion of the Bombay University in 1938. He organised the Shivaji Vyayam Mandali at Bapatla and some other places. He was a wrestler and badminton champion during his college days at Pune.
Shri Rao has been actively associated with a large number of cultural organisations. He has in his earlier days produced, acted and directed many Telugu films, notable among them being Mangalasutra, Nirdoshi, Drohi and Soudamini.