Shri Chennamaneni Vidyasagar Rao (30.08.2014 – 04.09.2019)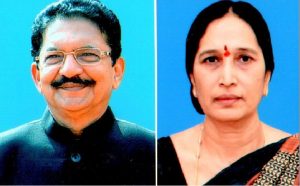 Shri Chennamaneni Vidyasagar Rao served as the Governor of Maharashtra from 30th August 2014 to 4th September 2019.
A senior BJP leader from Telangana, Shri Vidyasagar Rao had served as Union Minister of State for Home Affairs and subsequently as Union Minister of State for Commerce and Industry in the government led by Shri Atal Behari Vajpayee from 1999 – 2004.
Shri Vidyasagar Rao was elected to the 12th Lok Sabha from Karimnagar constituency in 1998 for the first time. In the year 1999, he was elected as President of the State unit of the BJP. He was re-elected to the 13th Lok Sabha in the year 1999.
Prior to becoming a Member of Parliament, he was elected thrice to the Legislative Assembly of undivided Andhra Pradesh in 1985, 1989 and 1994 from Metpalli assembly constituency in Karimnagar district. He was the Floor leader of BJP in the Andhra Pradesh Legislative Assembly for three consecutive terms.
Born on 12th February 1942, Shri Vidyasagar Rao was an activist of the RSS since childhood. After obtaining B.Sc., he secured LLB from the Law College of Osmania University where he was also elected as President of the Students' Union. He was actively associated with the Akhil Bhartiya Vidyarthi Parishad (ABVP).
Shri Vidyasagar Rao started law practice in Karimnagar in the year 1973.
He also served as President of Jansangh and as President of Janata Party, Karimnagar district.