Shri Brahmananda Reddy (12.02.1988 – 18.01.1990)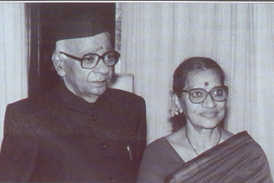 Kasu Brahmananda Reddy who succeeded Dr Shanker Dayal Sharma as Governor of Maharashtra was a veteran freedom fighter and one of the seniormost Congress leaders from Andhra Pradesh.
Born at Thubadu in Guntur District of Andhra Pradesh on 28 July 1909, Brahmananda Reddy was the Chief Minister of Andhra Pradesh between 1964 and 1971. He was Union Home Minister during 1974-1977 that included the period of national emergency.
In the year 1977, Shri Reddy was elected as the President of the Indian National Congress. Kasu Brahmananda Reddy is credited with creating the Industrial infrastructure in and around Hyderabad. Shri Reddy is also credited with keeping the State of Andhra Pradesh unified even in the face of intermittent demands for separation of Telangana from out of Andhra Pradesh. Considering the stature of Shri Reddy in the Congress party, his opinions and views were respected by the State Government.Shri Reddy died in 1994.