Air Chief Marshal Idris Hasan Latif, PVSM (06.03.1982 – 16.04.1985)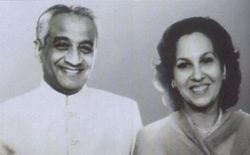 Air Chief Marshal Idris Hasan Latif, was appointed Chief of the Air Staff with effect from September 1, 1978 and relinquished this appointment on his retirement from the Indian Air Force after nearly 40 years of distinguished service. As an officer in the flying branch of the Air Force, his operational experience covered a wide spectrum at various levels of responsibilities. He has flown several thousand hours on fighter, bomber and transport aircraft, ranging from the pre-Second World War Vintage bi-planes to the supersonic MiGs and India-made Maruts.
Born on June 9, 1923, he was commissioned into the Air Force in 1942. He was then 18 and studying at Nizam's College, Hyderabad. The Air Chief's father, Mr. Hasan Latif, was Chief Engineer of Hyderabad State and after his retirement he became Principal of Osmania Engineering College.
On completion of his training at Ambala, he was posted to the Coastal flight at Karachi to carry out anti-submarine duties. He was among the first few pilots to be sent to England in 1943 for training on Hurricanes and Spitfire fighters which were soon to be inducted into the Indian Air Force.
Air Chief Marshal Latif had his first taste of war in the air when as a ground attack pilot in a Hurricane Squadron, he took part in the Burma Campaign on the Arakan Front in the Second World War. Earlier in 1943-44, he flew with the Royal Air Force in the United Kingdom. Soon after the war, he was back in Burma with No. 9 Squadron. The same Squadron now flying the famous Sabre Killer Gnats is today proud of having him as its Commodore Commandant.
He was only 26 years old and a Squadron Leader when, at the dawn of Independence, he commanded No. 4 Squadron equipped with Tempest fighters. This distinction was followed by another honour conferred upon him in recognition of his rich experience of operational flying. He was sent on a special mission to Indonesia as a member of our Advisory Group which helped the Indonesian Air Force induct jet fighters.
A Graduate of the Defence Services Staff College and the National Defence College, Air Chief Marshal Latif served as Air Defence Commander and Senior Air Staff Officer in Eastern Air Command. During 1 971 operations, he was Assistant Chief of Air Staff (Plans), and in that capacity he carried out the onerous task of making first-hand assessment of the problems and achievements of frontline squadrons and the modernisation plans of the Air Force.
For nearly five years (1961 -1965), he was our Air Attache in Washington and was concurrently accredited to Canada and it was during his tenure there that he flew the USAF, F-S fighter.
On his promotion to the rank of Air Marshal in January 1974, he was posted as Air Officer Incharge Administration at Air Headquarters. Later he took over as Air Officer Commanding-in-Chief, Central Air Command and subsequently Maintenance Command.
In May 1977 he was appointed Vice-Chief of the Air Staff which post he held until he assumed office as Chief of the Air Staff. In recognition of his distinguished service of the most exceptional order, Air Chief Marshal Latif was awarded the Param Vishisht Seva Medal in 1971.
Air Chief Marshal Latif combines in his dynamic personality an extraordinary measure of the operational with the humanitarian. One of the memorable landmarks in his career was the Air Force Relief operations under his stewardship during the Patna floods in 1975. Under his inspiring guidance and directions, the helicopter pilots flew as many as 20 sorties a day to carry out humanitarian tasks that called for great precision and accuracy and flying skill of a very high order. All available air and ground crews were inducted into the operation'an operation which earned them the gratitude of the people saved from the ravages of the floods.
Flying has always been the first passion of Air Chief Marshal Latif and in all his higher appointments in the Air Force, he always found time to carry out as much flying as his other onerous responsibilities would permit. His interest in flying continued till almost the very last day in office and during the course of the recent months he made it a special point to fly the latest aircraft inducted into the Air Force, Jaguar, MiG-23 and MiG-25. During his official visit to France in 1981, he also had an opportunity to fly the Mirage-2000.
Within a few days of his retirement from the Air Force, the Government has also announced his appointment as a Member of the reconstituted Public Enterprises Selection Board.
Air Chief Marshal Latif has also a long and intimate association with Maharashtra and its people. His forefathers came and settled in Bombay and their old family house Latifia can be seen on Pandita Ramabai Road and their property in Bombay extended right upto Chowpatty. For him also for many years Maharashtra was an important field of his active service in the Indian Air Force. It was in this State at Poona in the late 40s that he first commanded an operational squadron. Two decades later he returned to take over command of the Air Force at Poona which by then had become one of the most important operational base of the Air Force. Thereafter from the early 70s, right till the end of his career, his links with the State remained unbroken and intimate as Air Officer Commanding-in-Chief, Central Air Command, later Air Officer Commanding-in-Chief, Maintenance Command and finally as Chief of the Air Staff.
Air Chief Marshal Latif is fond of riding, and has been a keen player of Cricket and Tennis. Ever since he was a boy, his greatest passion, besides flying in later years, has been photography. His love for Urdu poetry is shared by his wife Bilkees Latif.
Though soft-spoken, Air Chief Marshal Latif is a strict disciplinarian and attaches great importance to punctuality as an attribute. He believes in the dignity of man trusting human beings and reposing faith in their capabilities for achieving results. He encourages free debate to precede a decision but once it has been taken he expects complete compliance.