Dr. Shanker Dayal Sharma (03.04.1986 – 02.09.1987)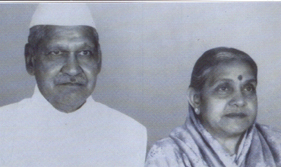 Dr. Shanker Dayal Sharma assumed office as the Governor of Maharashtra on 3rd April 1986. Dr. Sharma was born on 19th August 1918 at Bhopal to Shri Khushilal Sharma and Shrimati Subhadra Sharma. He married Shrimati Vimala Sharma (Vimalaji) on 7th May 1950. They were blessed with two sons and two daughters, of whom one daughter died in 1985.
Education:
Dr. Sharma received his education at St. John's College, Agra, Allahabad University, Lucknow University, Fitzwilliam College, Cambridge University, Harvard Law School, Zurich University, Paris University, London University and Lincoln's Inn.
He took his M.A. degree in English Literature, Hindi and Sanskrit and stood first in the University. He obtained his LL.M. from the Lucknow University once again standing first in the University. He did his Ph.D. at Cambridge and was awarded a Diploma in Public Administration from London University. Dr. Sharma taught Law at Lucknow University for 9 years, and later at Cambridge University (1946-1947). A Bar-at-law from Lincoln's Inn, he later became a Fellow of the Harvard Law School (1947-1948).
Dr. Sharma was awarded the Chakravarti Gold Medal for Social Service by the Lucknow University. Vikram University and Bhopal University have both conferred upon him the degree of LL.D. (Honoris Causa). He was also Pro-Chancellor of the Sagar University (1956-1959).
Special Areas of Interest:
International Affairs ; Rural Development ; Law, Philosophy Comparative Study of Religions and Education.
Sports:
During his college and University career, Dr. Sharma also won distinction as a sportsman, having excelled in athletics, rowing and swimming.
Favorite Pastime and Recreations:
Reading and writing on various subjects of national and international interest and study of languages, history, art and culture, comparative religions, philosophy, poetry, literature and classical Indian and Western music.
Career:
Dr. Sharma started his legal practice in 1940 in Lucknow. A veteran freedom fighter, Dr. Sharma had undergone imprisonment during the freedom struggle, the merger movement in Bhopal and later in 1978.
He was Chief Minister of the erstwhile Bhopal State (April 1 952 to November 1956), Cabinet Minister, Government of Madhya Pradesh holding the portfolios of Education, Law, Public Works, Industry and Commerce, National Resources and Separate Revenue (1950-1 967) and was thereafter Union Minister for Communications (10th October 1974 to 24th March 1977). He was Governor of Andhra Pradesh (29th August 1 984 to 25th November 1985) and Governor of Punjab (26th November 1985 to 2nd April 1986).
Public life:
Dr. Sharma was President, Bhopal Congress Committee (1950-1952) ; Member, All India Congress Committee for more than 32 years (1 952-1984); President, Madhya Pradesh Congress Committee (1 967-1968); Member, Congress Working Committee for about 20 years; Genera' Secretary, Indian National Congress (1 968-1 972) and President, Indian National Congress (1972-1974). His experience as a Legislator and a Parliamentarian spans a period exceeding 30 years. He was a Member of the State Legislature (1952-1971) and later Member of Parliament (Fifth Lok Sabha :1971 -1 977 and Seventh Lok Sabha : January 1980 to August 1984).
Literary and Journalistic Pursuits:
Publications:

Congress Approach to International Affairs
Kranti Drishta
Indo-Soviet Relations
Rule of Law and Role of Police

Editorial Assignments

Lucknow Law Journal (1941 -1943)
Light and learning (1942-1943)
IIm-o-Noor (Urdu)
Jyoti (Hindi)
Socialist India (1971 -1974)

Articles:

He has written a large number of articles on different subjects in various National and International Journals.

Addresses:

He has delivered Convocation Addresses in a number of Universities including the Madras University and also delivered the 2nd Sardar Patel Memorial Annual Lecture at the National Police Academy, Hyderabad.

Travel Abroad:

He has travelled widely and visited various countries of the world including Afghanistan, Austria, Bangla Desh, Belgium, Bulgaria, Canada, China, Denmark, Egypt, Federal Republic of Germany, Finland, France, Greece, Hong Kong, Holland, Hungary, Iraq, Italy, Japan, Kenya, Korea, Kuwait, Luxembourg, Malaysia, Mauritius, Norway, Pakistan, Singapore, South Yemen, Sweden, Switzerland, Thailand, United Kingdom, U. S. A., U. S.S. R.

Permanent Address:

E2/66, Arera Colony, Bhopal, Madhya Pradesh.