Dr. P. C. Alexander (12.01.1993 – 13.07.2002)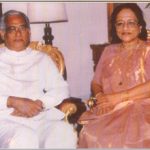 Dr. P.C. Alexander is one of the most distinguished and respected public servants of the post-Independence era, distinguished and respected because of the high standards of efficiency, impartiality and integrity he had maintained throughout his career. An outstanding statesman and administrator, he has the distinction of having held several high positions in public life both at the national and international levels spanning a period of over half a century. These includes:
Three years as Secretary in the Ministry of Commerce, Government of India,
Four years as Principal Secretary to Prime Minister,
Three years as High Commissioner for India in London,
Over eleven years as Governor (Tamil Nadu 1988-90 of which one year was when the State was under President's rule and Maharashtra from January 1993), and
Ten years in senior posts in the U. N. Civil Service.
It was while serving as Assistant Secretary General and Executive Director of the UN International Trade Centre, Geneva, that Shrimati Indira Gandhi invited him to join her office as Principal Secretary. As Principal Secretary to Indira Gandhi and later to Rajiv Gandhi during the years 1981-1985, he played a very crucial role in the momentous developments of this period.
Dr. Alexander took his post-graduate degree in History arid Economics from the Travancore University and M.Litt and D.Litt. degrees by research from the Annamalai University before joining the Indian Administrative Service (lAS 1948). After serving in the districts in the then Madras and Travancore-Cochin states, he joined the Central Government in 1955 on deputation. He was later selected to the Central Administrative Pool of officers and continued to work in various capacities in the Government of India till his superannuation from service.
He had training in the Board of Trade U.K. under a Nuffield Foundation Fellowship and done research at the Stanford Research Institute, California, U.S.A. under a Ford Foundation Fellowship.
Dr. Alexander from his younger days in school and colleges had excelled himself in elocution and debates, consistently winning first prizes in inter-school and inter-collegiate competitions. While a student at the Travancore University he was the leader of the Travancore University debating team which was deputed to visit other universities for inter-university debates. He was President of the Travancore University Union during 1940-41.
Throughout his career Dr. Alexander has won the acclaim and admiration of his audiences as a gifted and erudite speaker on a wide range of subjects of crucial importance to the nation.
He was the recipient of the prestigious Kanchi Paramacharya Award for National Eminence in Public Administration in 1999.
Dr. Alexander has been a member of the Central Executive Committee of the Bharatiya Vidya Bhavan world wide for over a decade and was elected as its Vice-President arid Trustee a year ago. He has been Chairman of the Nehru Trust for Cambridge University from June 1989.
Dr. Alexander has authored several books, articles and research papers and enjoys as high a reputation as a writer as he does as a speaker. His latest books are:
My Years with Indira Gandhi
The Perils of Democracy
India in the New Millennium.
Dr Alexander resigned as Governor of Maharashtra on 13th July 2002. At present he is a member of Rajya Sabha from Maharashtra.
Dr Alexander passed away on 10 August 2011.