Air Chief Marshal O. P. Mehra (03.11.1980 – 05.03.1982)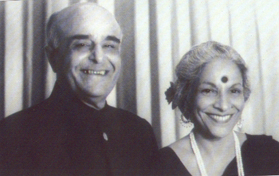 Academic Qualifications:
M.A. History from Panjab University in 1940
Air Force Career Commissioned on 30th November, 1940
Appointed Chief of Air Staff on 15th January 1973.
Constitutional Appointments:
Governor of Maharashtra (3rd November 1980 to 6th March,1982)
Governor of Rajsthan (6th March 1982 to 4th Nov. 1985)
Other Important Professional Assignment:
IAF representative on Join Chiefs of Staff in Australia -1946 to 1947
Dean, Institute of Armament Technology, Pune from1960 to 1963
Chairman, Hindustan Aeronautics Ltd. Bangalore from March 1971 to Oct. 1973.
Association With Professional Bodies:
Follow of Aeronautical Society of India
Aeronautical Society of India from 1947 to 1977 – President
Center for Air Power Studies -Vice Chairmen
Center for Strategic and International Studies- Member
Management Committee for Shri Satya Sai International Canter and School for propagation of human values. – Member
Sports and allied Activities:
Olympic Council of Asia Hony life — President
Indian Olympic Association from 1975 to 1980 — President
Asian Games Federation since Re designated OCA 1978-1980 — President
Delhi Gymkhana Club (2 years) — President
Delhi Golf Club Ltd.(2 Years till Oct.1994) — President
Delhi Race Club Ltd.(4 Years) — President
Services Sports Control Board for 4 Years — Vice President
Indian Hockey Federation (6 Years) — Vice President
Delhi Lawn Tennis Association(2 Years) — President
Durand Cup Football (1973 to 1975) — Member and later Chairman
Association with International, Organizations:
C.I. International Hotels Ltd. — Director
Polyplex Corporation Ltd. — Director
Mayar India Ltd. New Delhi — Director
Adyar Gate Hotels Ltd. Chennai — Director
Ansal Properties & Industrial Ltd. — Director
ROPSSA Properties & Enterprises Pvt. Ltd. — Chairman
Honours & Awards:
Param Vishistht Sewa Medal — Jan. 1968
Padama Vibhushan — Jan. 1977
Srimoni Award — 1988
Rajiv Ratna Award — 1991
Help Age India Golden Award – – 1999
Distinguished Leadership Award for Services to the Indian Air Force
National Security Awarded by the American Biographical Institute.