25.03.2021: Governor visited the Parshwanath Digambar Jain Mandir at Khatauli, U. P.
Zoom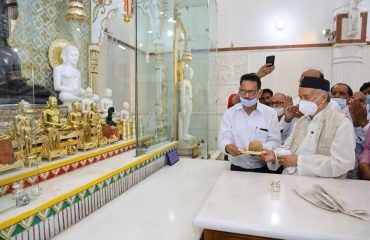 22.03.2021 : Governor Koshyari inaugurated an Indo - US Conclave on Climate Change through an online platform from Raj Bhavan, Mumbai. Founder of Govardhan Eco Village Radhanath Swamy, Consul General of the United States of America in Mumbai David Ranz, industrialist Ajay Piramal, India's Consul General in New York Randhir Jaiswal and representatives of the City University of New York were present.
25.03.2021: उत्तर प्रदेश येथील मुझफ्फरनगर जिल्ह्यातील खतौली येथे दौऱ्यावर असलेल्या राज्यपाल भगतसिंह कोश्यारी यांनी पार्श्वनाथ दिगंबर जैन मंदिराला भेट देऊन प्रार्थना केली. यावेळी जैन समाज, खतौली तर्फे त्यांचे स्वागत करण्यात आले.